Smoked tagliatelle with Ricotta and Lemon Zest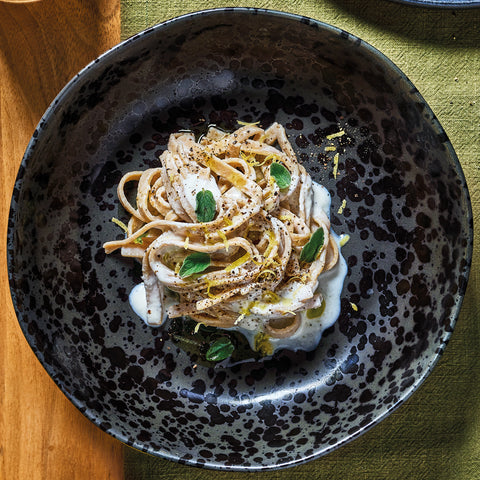 You will need
4 servings

280g Smoked Tagliatelle
100g Ricotta cheese
20g grated Parmesan cheese
1 lemon zest
Salt
Black pepper

Preparation
Step 1
In a bowl add the Ricotta and Parmesan cheese, and grate the lemon peel. Season with salt and pepper. STEAM?! ingredients with cooking water.
Step 2
Cook Smoked Tagliatelle according to cooking directions, reserving some cooking water. Drain the pasta in the Ricotta mixture, adjusting the consistency with cooking water.
Step 3
Toss the tagliatelle, adding ground black pepper, lemon zest and a drizzle of olive oil.
Atavi Sourdough
SOURDOUGH reveals all the taste and aromas of fresh baked bread stirred with a pinch of sourness, to bring a whole new sensory dimension to the art of pasta
Atavi Smoked
SMOKED enhanced by imbuing roasted wheat with the fumes of wine canes for a smoky taste profile that brings a whole new sensory dimension to the art of pasta
Atavi Umami
UMAMI unlocks the rich complexity from 40 hours of Koji fermentation to reveal earthy notes of miso, mushroom and macadamia nuts, bringing a new sensory dimension to the art of pasta